| | | |
| --- | --- | --- |
| Welcome | | You are not currently logged in. |




Saint Paul Fire Chief Tim Butler has been formally
Censured via Resolution #25 at the
2016 International Association of Fire Fighters Convention
| | |
| --- | --- |
| What's New at IAFF Local 21 | |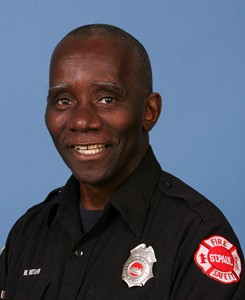 Local 21 regrets to announce the passing of Retired Firefighter Mike Butler. Firefighter Butler started with the fire department on May 12, 1986 and retired on July 26, 2013.
Services for Retired Firefighter Mike Butler are on Tuesday, October 24th
Visitation: 4:00 PM – 6:00 PM
Service: 6:00 pm
Bradshaw Funeral Home
4600 Greenhaven Drive
White Bear Lake, MN 55127
There are still many Fire Department employees who need to login to https://benefits.stpaul.gov and make their selections, or they risk losing the benefits they're accustomed to.
THIS YEAR IS NOT LIKE LAST YEAR: THERE IS NO AUTOMATIC CARRYOVER OF BENEFITS.
Even if you don't want City health insurance, you must go in to keep the city-paid life insurance benefit you have. Just waive any coverage you don't want.
2018 OPEN ENROLLMENT INFORMATION SESSIONS –
Friday, October 13 – 8:00 – 11:00 a.m. at Police, 367 Grove St.
PLEASE REMEMBER your elections for 2017 DID NOT transfer over from Benefit Ready to Infor Employee Self Service. YOU MUST log in and select what benefits you want for 2018. Open enrollment ends on Friday, October 13, 2017 at midnight.
To sign up for your health benefits for 2018, log into your ESS: https://benefits.stpaul.gov
Go to http://cityofstpaul.welcometomedica.com/home you can compare the different plans provided by Medica.
You only have until midnight on October 13th to complete your enrollment. Remember that nothing is being carried over from last year so you need to start all over. We also have a new dental provider and that is Delta Dental. Same as before with the 2 preventative visits per year. Additional coverage is available at a cost.
Free flu shot with your HealthPartners Member ID card.
Contact Nancy Denkinger at 651-228-6206 if you have problems logging onto ESS.
Dear L-21 Members:
As you may know, the IAFF considers an annual stress test to be a valuable benefit to members for purposes of protecting their health and wellness on and off the job. For several months, Local 21 has been discussing with the Fire Administration the circumstances under which such a program could be implemented for the benefit of our members. While we have had many good conversations, the chief concerns to Local 21 are: 1) whether the program should be voluntary or mandatory; 2) if mandatory, what protections (ie, job status, training and assistance to regain fitness, etc.) are to be provided to members who are either determined to be unable to safely take the test or who, after taking the test, have a VO2 exchange rate that indicates they may not be physically able to safely perform the essential functions of the job; and 3) once implemented, whether the City is committed to providing the funding to make this program on-going rather than a one-time event. To date these concerns have not been resolved to the satisfaction of Local 21. After the last labor-management meeting on this topic, Local 21 officers have heard that, notwithstanding the fact that we have told the Fire Administration that we cannot move forward until these issues are resolved, the Department intends to proceed with mandatory testing. However, when our attorney inquired with the City's Director of Labor Relations, he was told Labor Relations was not aware of any plans to implement mandatory testing. We are writing to inform you of the status of events to avoid inaccurate rumors and also to ask that, if you receive an order from a supervisor to report for administration of a stress or other physical test to determine your health or fitness, you contact a Local 21 officer immediately and before you submit to any such test.
Sincerely,
Mike Smith
Denny Hall
Jeramiah Melquist
Brothers and Sisters,
The Supreme Court of the United States today voted to take up the case of Janus v. AFSCME which will bar public-sector unions from collecting fair-share fees from non-members and allow non-members to free-ride on the benefits negotiated by the Union from the employer.
Imagine there are no roads, schools, fire/EMS and police departments, courts or military defense. None of these critical government services would exist if we did not pay for them in the form of taxes. If taxes were not required some folks would certainly chip-in to help provide some level of services for the whole, but the amount of people who would not, and still benefit, would cripple our society. You wouldn't even want to imagine living in such a place!
Like our government, every Union member has a vote and can run for Union-offices. They operate under a Constitution & By-Laws and there are repercussions for violating said. By standing together Union members use their collective-voice to negotiate better wages, hours, benefits, working conditions, due process, and the like. All the Union asks is that everyone chip-in equally, in the form of dues, for the costs of their representation.
Union dues are taxes to ensure a better workplace and all Americans benefit from Unions whether they are members or not. If you are making a minimum wage or overtime, off of work because of vacation, sick or maternity/paternity leave, have a safe workplace, getting a lunch break, receiving disability or retirement benefits, or just looking forward to the weekend, you have benefited from a union's work at some point.
All we can do at this point is to spread the word about how important Unions are to raising the standard of living for all Americans. Only public sentiment can influence the court now. Share this with your members and educate them on the importance of belonging and contributing to their Union.
Fraternally,
Chris Parsons
President
Minnesota Professional Fire Fighters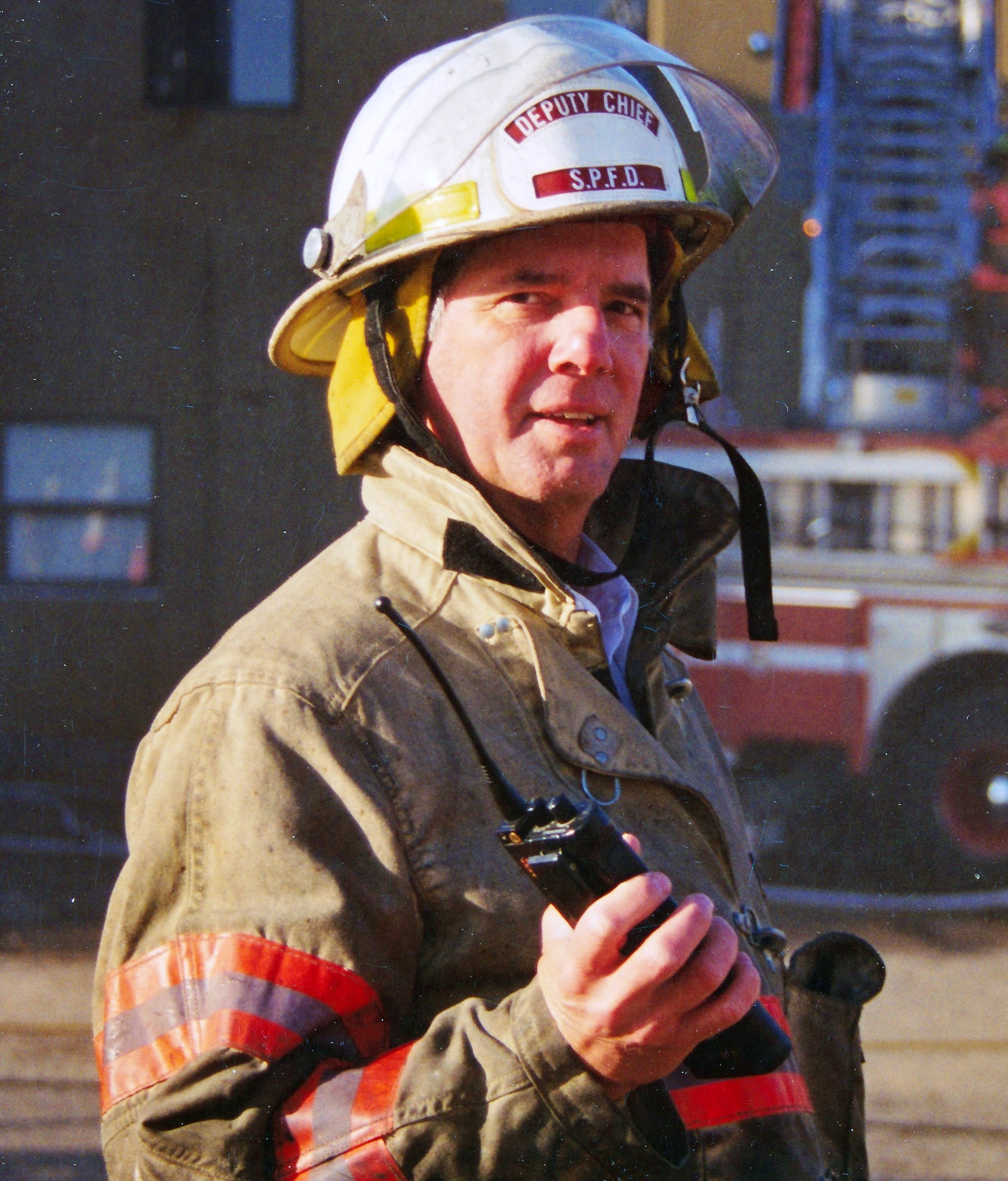 Local 21 regrets to announce the passing of retired Deputy Chief Pete Pream. Chief Pream started with the Saint Paul Fire Department on March 24, 1975 and retired on May 28, 2004.

Pete's Celebration of Life will be from 4-8 p.m. on September 29th at the American Legion Post 225 in Forest Lake, 355 W Broadway Ave, Forest Lake, MN 55025.
The annual Minnesota Fallen Firefighter Memorial Service is held each year on the last Sunday in September, which has been designated as the state's official day to honor Minnesota's fallen firefighters. Each event recognizes dozens of people, including newly discovered line of duty deaths and families the Minnesota Fire Service Foundation was able to track down since last year's memorial service. The foundation coordinates the effort to recognize the state's firefighters who died in the line of duty and provides support and resources to fire departments, firefighters and their families throughout Minnesota.
Learn More about past memorial ceremonies, firefighters' stories and Minnesota media coverage.
The 2017 Minnesota Fallen Firefighter Memorial Service ceremony will take place on the grounds of the State Capitol starting at approx. 1 p.m. on Sunday, September 24.

REGISTRATION INFORMATION
This year's event will be held on Sunday, September 24, 2017. Please register in advance so we can comfortably accommodate all in attendance.
Schedule
10:45 - 11:15 Interfaith Service
11:30 - 12:15 Honor Roll
12:45 Escort Through the Sea of Uniforms
1:00 - 2:30 Memorial Service
The day begins with an interfaith service after which, honor guard personnel will read the honor roll. Families will enter the Capitol grounds through a sea of uniforms, and be escorted to their seats. Bells across Minnesota will ring to honor the state's fallen firefighters. Family members and the public are welcome to spend time within the Fallen Firefighter Memorial and make etchings of their loved-one's name.
Firefighters from across the state are expected to attend in order to show support for their fallen colleagues and the families they left behind.
This event is free, but please register so the foundation can plan accordingly.
CLICK HERE TO REGISTER FOR THIS EVENT
Walk With Pat Harris at the Payne Arcade Harvest Parade
Saturday September 23rd, Parade starts at 12:00
Pat Harris is #38 in the line up Payne/Geranium
Line-up starts at 10:00, arrive no later than 11:50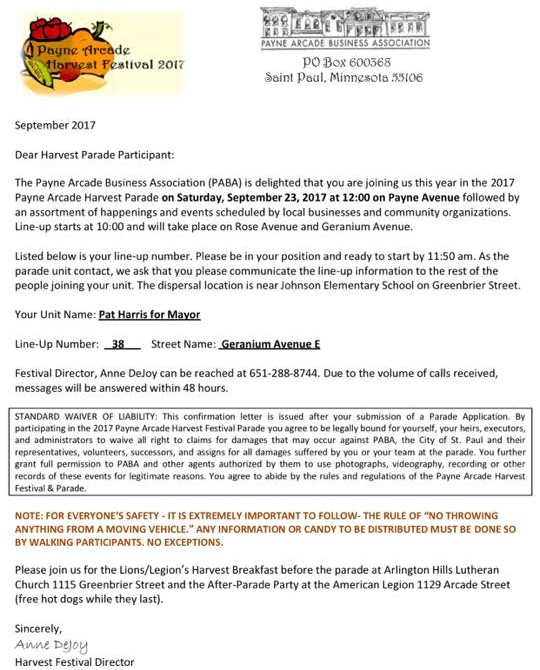 This is a big final push. Please come to this fundraiser! We want a big showing. If you can't make it, please contribute by getting a check to the Local 21 officers for delivery at the fundraiser. Please try to come. It's a fun time and let's show our support for Pat Harris.

Best Regards,
Dennis Hall
Secretary, Local 21
St. Paul Firefighters