| | | |
| --- | --- | --- |
| Welcome | | You are not currently logged in. |
| | |
| --- | --- |
| What's New at IAFF Local 21 | |
Brothers and Sisters,
Every year in June, IAFF members from fire departments all across the Twin Cities assemble at Camp True Friends in Maple Lake, Minnesota for Fire Fighter Day.
This is a very special day at camp and not just because it is the day campers look forward to the most each year. It's special because this is your opportunity to see the product of your ongoing fundraising efforts. When the IAFF and Local 21 calls on you to support our national partnership with the MDA you ask, "where does all this money go?" This is it! Come see for yourselves. Not only will you be able to interact with all of the local kiddos and families affected by neuromuscular disease, but you will be able to witness the advancements in medicine right in front of your own eyes as a direct result of your contributions. These kids are living longer and growing stronger because the money we raise is changing the course of their lives. Kids that were never supposed to hold a baseball bat or a fishing pole are now running bases and casting lines.
Local 21 is looking to represent with our biggest turnout yet on Tuesday, June 12 and Tuesday, June 19. If you have not been before, we are strongly encouraging you to attend this year. It's only a couple weeks away so please RSVP at your earliest convenience. You can look forward to spending part of your day grilling lunch and participating in activities like zip-lining, swimming, fishing, archery, whiffle ball and so much more!
Ideally we'd like to show up with 6 - 10 members each day, so don't be shy and RSVP early!
Send your RSVP to kylethornberg@gmail.com or text your RSVP to 612.598.7010, and please feel free to reach out with any questions. Thank you in advance for your time and consideration. Retirees and family members are encouraged to attend as well.
Fraternally,
Kyle Thornberg
IAFF Local 21 Trustee
Download:

Fire Fighter Day at Camp.pdf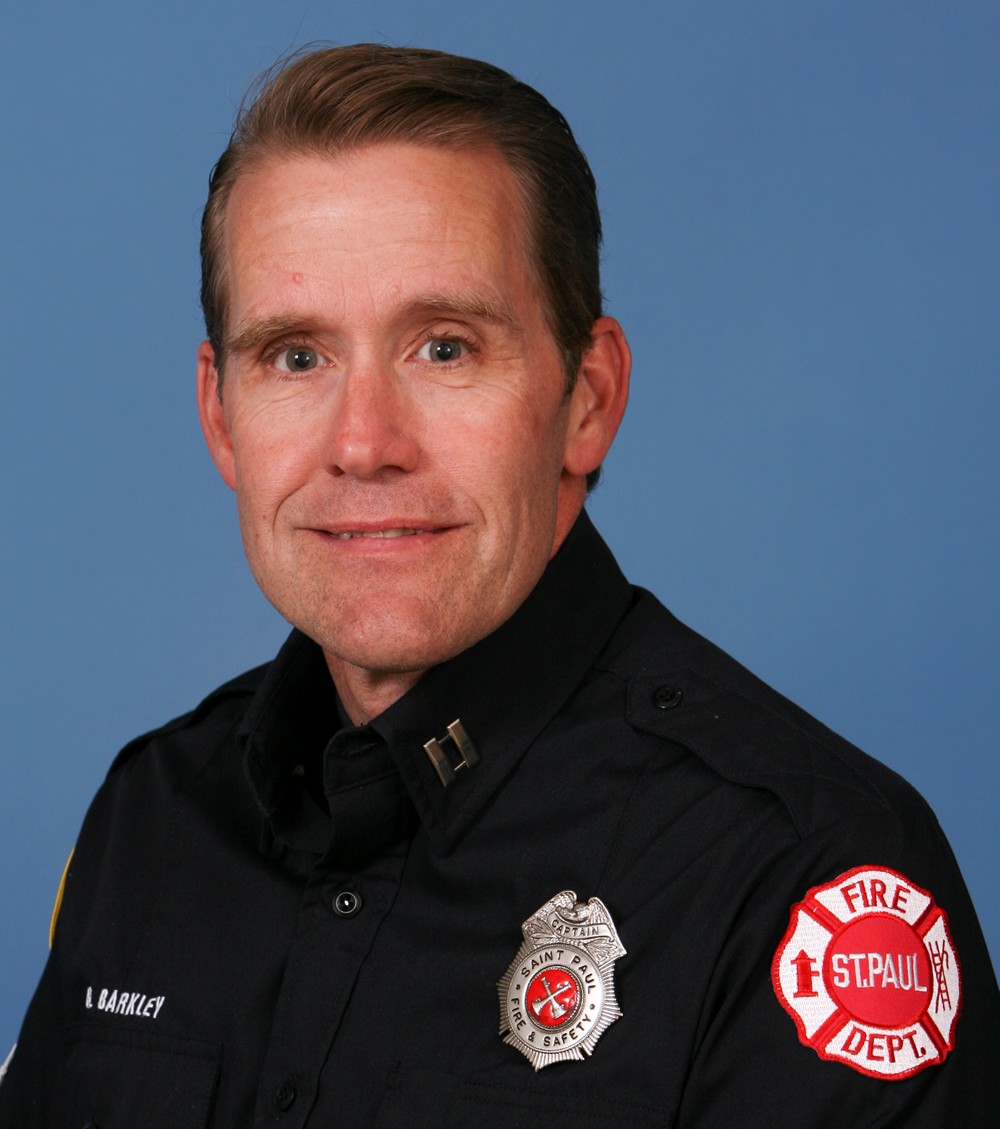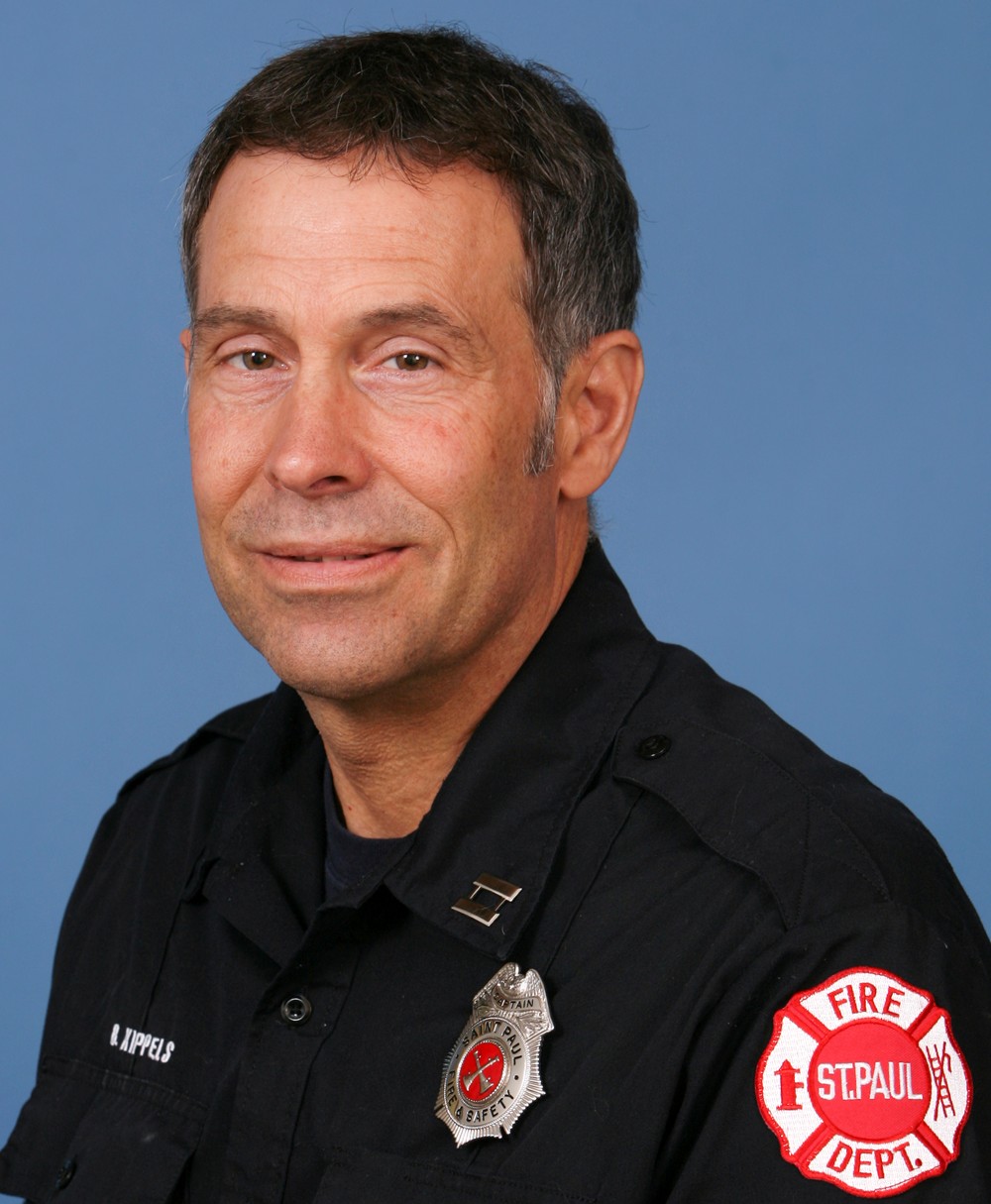 Upcoming retirement events for Captains Barkley and Kippels

Captain Barkley - May 31st at Fire Station 6 from 1:00 - 4:00 PM

Captain Kippels - May 30th at Fire Station 8 from 1:00 - 4:00 PM
and June 2nd at Bad Weather Brewing from Noon to 4:00 PM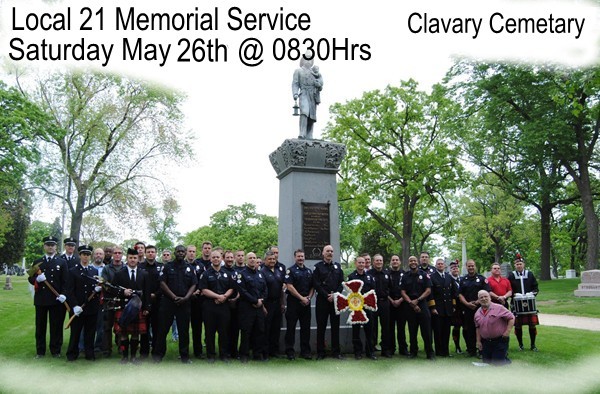 The Memorial Day Observance is on Saturday, 5/26, 0830 at Calvary Cemetery. All attendees are invited to breakfast afterwards at the Coffee Cup at Rice and Arlington. I also have 20 free Twins tickets from the Salvation Army for ringing bells during the Holiday Season. They are first come, first served for Tuesday, May 22nd, 710pm vs Detroit. Seats are in sec 303, row 12, seats 16 - 24, and sec 303, row 13, seats 14 -24. Contact Bob Kippels at 651/274-6653 to reserve your tickets.
The 2018 Cinco De Mayo parade staging area and route have been changed this year due to the rock slide. The below picture shows the new staging area as well as our float number and the new parade route. Joaquin Rosales is the contact for any questions regarding this event. There will be a small get together after the parade for FD members and their families.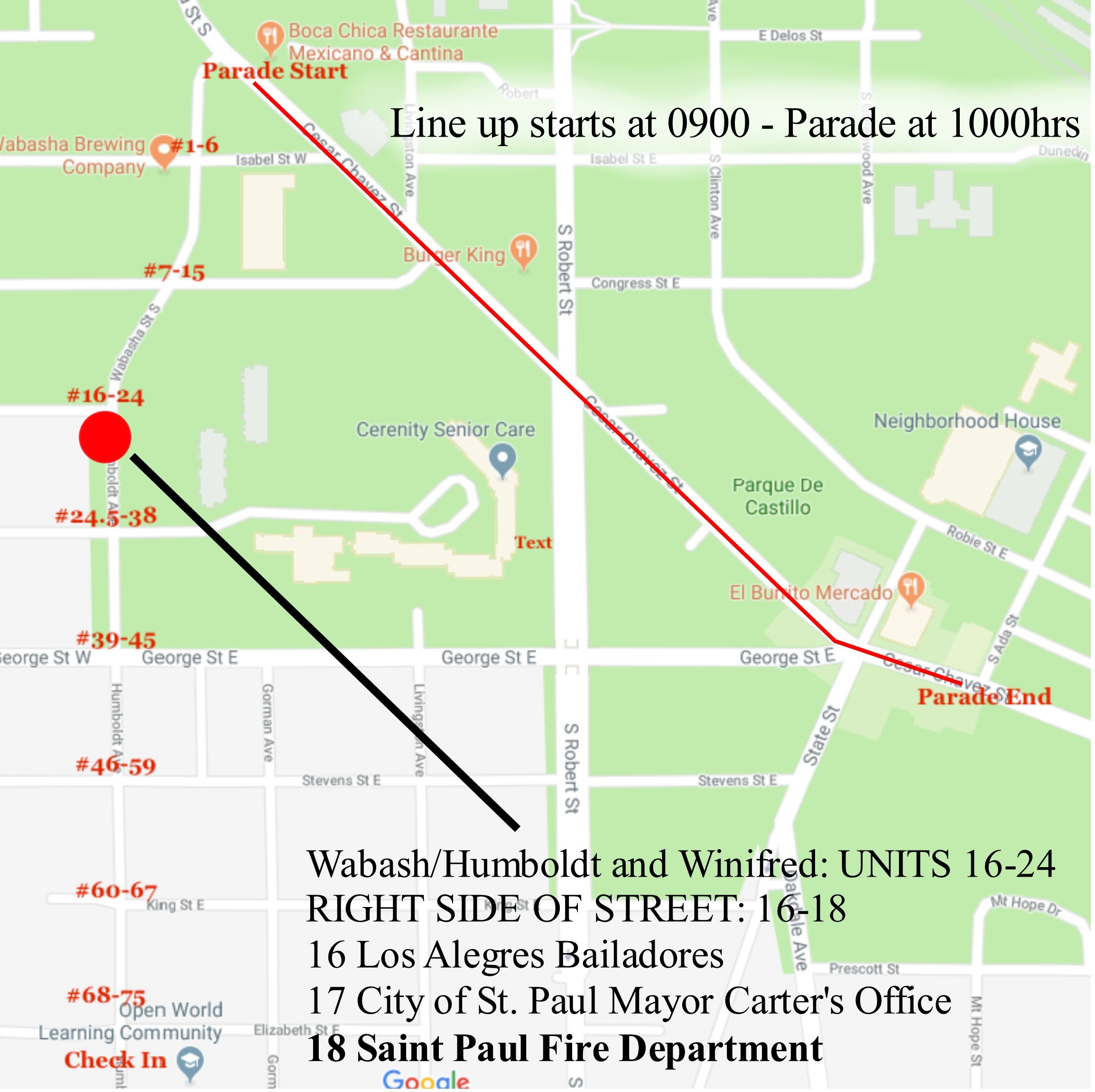 CINCO DE MAYO SHIRTS ALL SIZES ARE AVAILABLE