| | | |
| --- | --- | --- |
| Welcome | | You are not currently logged in. |




Saint Paul Fire Chief Tim Butler has been formally
Censured via Resolution #25 at the
2016 International Association of Fire Fighters Convention

.
Is Your Neighborhood Short Staffed Today?

.
| | |
| --- | --- |
| What's New at IAFF Local 21 | |
Local 21 Members active and retired are encouraged to attend a press conference supporting The Firefighter Cancer Registry Act hosted by Senator Amy Klobuchar.
We will be at Minneapolis Station 17 – 330 E 38th St, Minneapolis ON MONDAY 2/20. The presser will begin at 11:00 am. If you want to arrive a little early, that would be much appreciated.

Retired Saint Paul Fire Captain Steve Shapira will be speaking to his experience at this event.

Brief background on the bill:

The Firefighter Cancer Registry Act would monitor and study the relationship between career-long exposure to dangerous fumes and toxins and the incidence of cancer in firefighters to determine if there is a link, and to develop better productive gear and prevention techniques.

The registry would improve collection capabilities and activities related to the nationwide monitoring of cancer incidence among all firefighters – career and volunteer. Specifically, the registry would:

- Store and consolidate epidemiological information submitted by healthcare professionals related to cancer incidence among firefighters

- Make de-identified data available to public health researchers to provide them with robust and comprehensive datasets to expand groundbreaking research

- Improve our understanding of cancer incidence and could potentially lead to the development of more sophisticated safety protocols and safeguards as more data is collected

- To ensure the effectiveness of the registry, its administrators would be required to consult regularly with epidemiologists, public health experts, clinicians, and firefighters.

Any questions regarding this matter contact L-21 Secretary Dennis Hall Engine 8-A
To All IAFF Affiliate Presidents, Our members respond to any number of tragic events, and post-traumatic stress is a natural response to the accumulation of what they experience on a daily basis. Read More...
St. Patrick's T-shirts and Hats for sale at Station 14
$20 each. Proceeds to benefit Regions Burn Unit.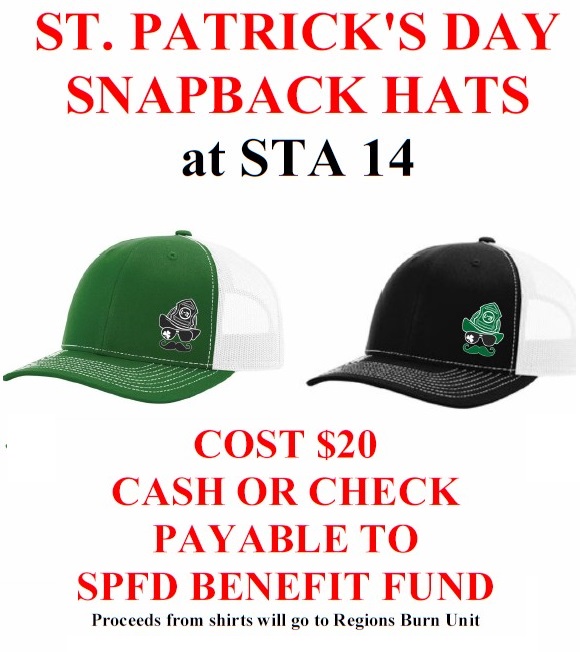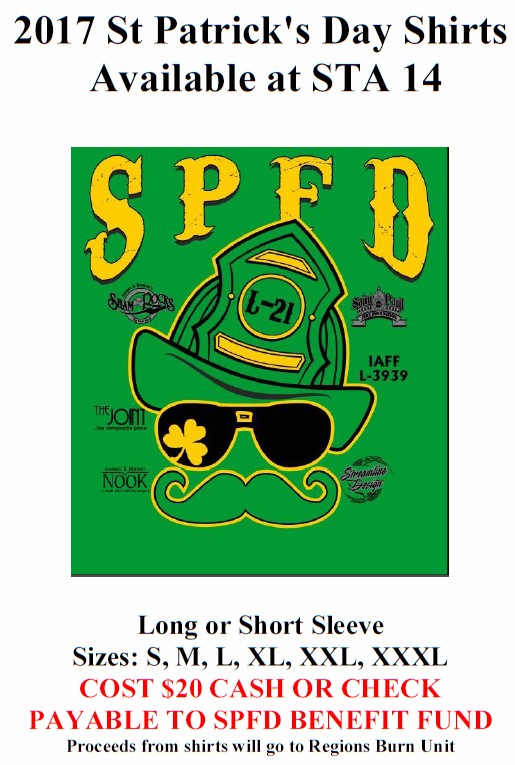 It's that time year again when we all start to sweat off our holiday pounds and hit the stairs! This year my goal is to do all stair climbs and I would like as many people as I can find to join me.
They are all located in Minneapolis and are as follows:
- Climb for a Cure February 11 A-shift IDS Center 52 floors/1280 steps
- Fight for Air February 25 B-shift US Bank plaza 31 floors/680 steps
I would like to have as many people as possible this year. So, if you are on the fence about it… get in. If you need to think of it as training for the job, a way to win in competition against MFD, or a tax write off please come out and get in, or stay, in shape.
All fitness levels are welcome. Please respond to let me know that you are interested. Once I have an idea of who and how many people are in I swill start to organize training groups for anyone who is interested.
Luke Swoboda Engine 4-A
lucas.swoboda@ci.stpaul.mn.us
Local 21 is looking for members to serve on the EMS committees. Please be dedicated to attending these committee meetings as these will lead us into our future as a department. Please contact a Chair Officer or Lambert for EMS to apply.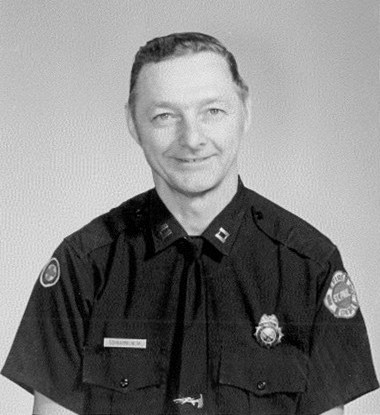 Local 21 regrets to announce the passing of retired Captain Walter Schramm. Captain Schramm started with the Saint Paul Fire Department on April 16th, 1950 and retired on January 29th, 1982. Retired Fire Captain Walter "Melvin" Schramm passed away on December 30, 2016.
Service Friday, January 6, 2017 at 2:00 PM at DIVINITY LUTHERAN CHURCH, 1655 Cottage Ave. E, St. Paul. Interment Fort Snelling National Cemetery on Monday. Visitation one hour prior to service. Memorials preferred. 651-777-2600 sandbergfuneralhome.com