Minnesota Transportation Museum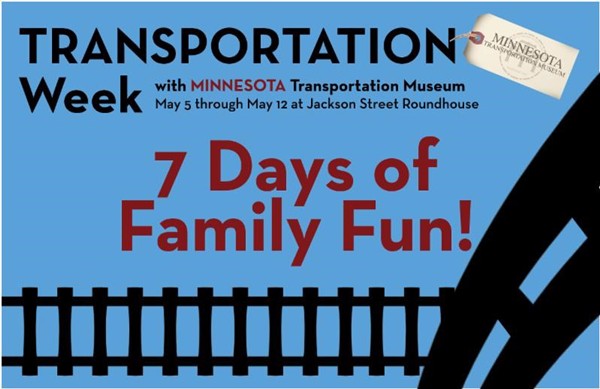 Say, what? Join us for a weeklong celebration of all things Transportation! All week visitors can experience the hands on fun of bikes, service vehicles, construction equipment, buses, motorcycles and classic cars with special guests, storytimes, crafts, bus and train rides! Cool, tell me where!
All the fun will be at the historic Jackson Street Roundhouse, home of the Minnesota Transportation Museum. Check out our website for a complete list of dates and times of activities!
The Minnesota Transportation Museum has approved free admission to active Saint Paul Fire Department employees during Transportation Week (May 5 through May 12) as well as during days they are open during the summer 2018 season (June, July, and August) located at Jackson Street Roundhouse. All you needs to do is show your current badge/ Fire ID to the Admission staff. Please note that free admission is only for individual active Saint Paul Fire department employees. Friends and families joining them will need to pay regular admission.
When is it?
· Train Day - Saturday, May 5, 10am - 4pm
· Bike Day - Sunday, May 6, 10am - 4pm
· Public Service Day - Monday, May 7, 3pm - 8pm
· Construction Equipment Day - Tuesday, May 8, 3pm - 8pm
· Bus Day - Wednesday, May 9, 10am - 4pm
· Motorcycle Day - Thursday, May 10, 3pm - 8pm · Vintage Car Day - Friday, May 11, 3pm - 8pm
· The "MOTHER ROAD" Day! - Saturday, May 12, 10am - 4pm Minnesota Transportation Museum 651-228-0263 office@trainride.org TransportationMuseum.org